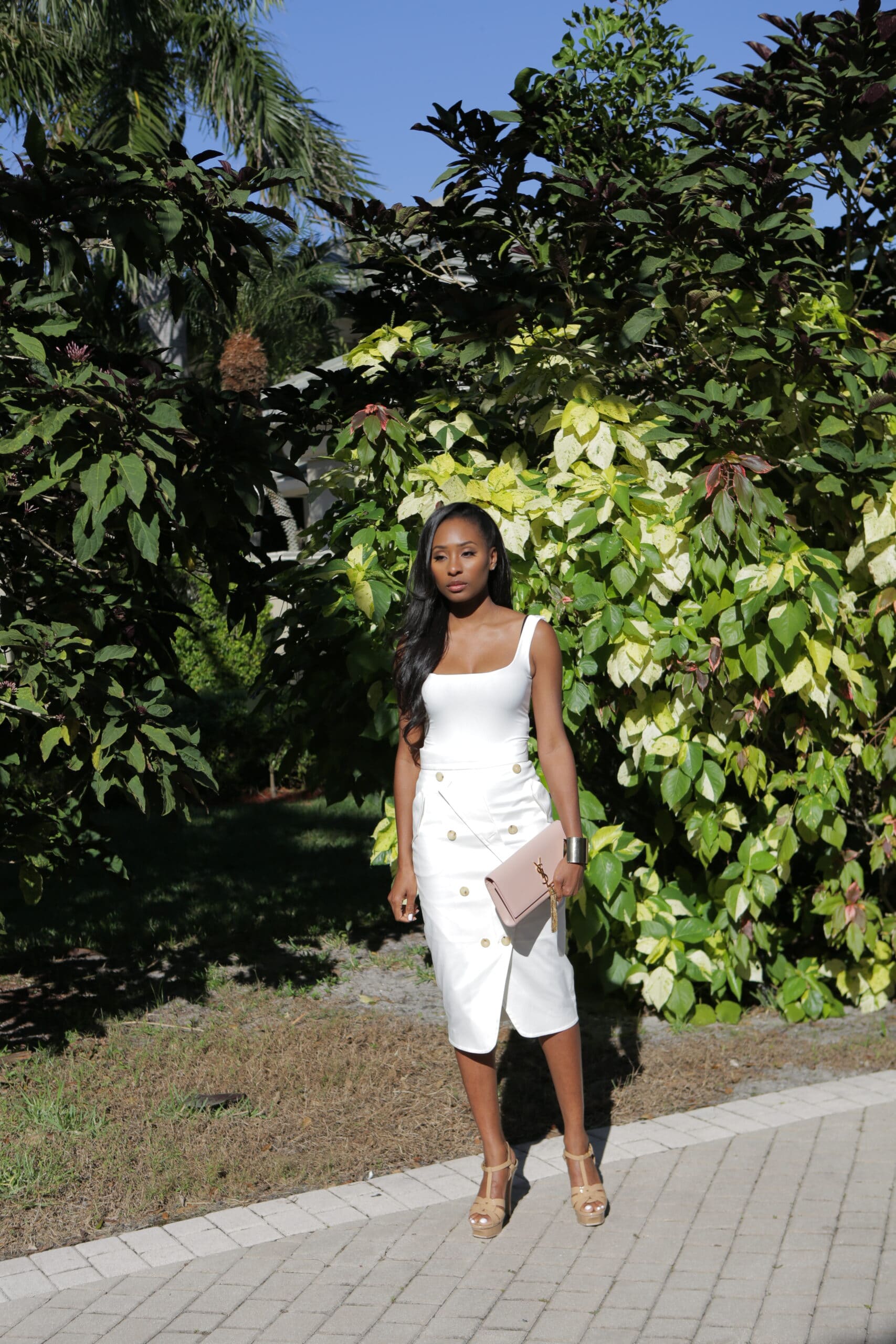 05 Jan

What To Wear To A White Party

So, you have been invited to an all-white party and you do not know what to wear. What to wear to an all white party depends on how formal it is. If it is a casual party, you should wear white clothing in light comfortable fabrics such as linen, denim, or cotton. If it is more of a formal event you should wear white clothing in fabrics such as chiffon, silk, or tweed. You need to stand out from the sea of other guests in white. So below you will find tips on white party outfit ideas for ladies, and don't worry guys there are also tips on white party outfit ideas for men.
Mix Textures and Patterns
All white can look very bland if you simply wear one choice of fabric without any detail. Therefore, it's a good idea to mix textures and pattern. For instance, if you wear a white chiffon top don't pair it with a chiffon pant. This is a completely boring look and you will look like you're ready for bed. A better alternative is to pair your white silk or chiffon blouse with a bottom in a different material like wool or crepe.
Tip for Women
Another great example of mixing different white textures and patterns is to wear a white lace body suit with a crepe pair of pants, shorts, or a skirt. Don't be afraid to pair contrasting textures and patterns. Since you will be wearing an all white outfit freedom with textures works very well to create more interest in your look.
Tip for Men
A good way for men to mix textures is to wear a white collar shirt under a linen jacket. You could also simply wear a white t-shirt (this depends on how casual or formal the party is) under a wool or linen jacket. If you are daring enough to wear a white paisley print jacket this would look amazing as well.
Choose Pieces with unique details
The best tip on how to dress for an all white party is to choose items that have unique details. You want to create interesting combinations and contrast with each of your pieces. Try not to pick clothing that is perfect in symmetry. For an example, don't wear a shirt with vertical lines that go down the front and pair it with shorts that have the same vertical lines. The lack of color in a solid white ensemble makes it quite difficult to create interest, so perfect symmetry just adds to the dullness.
Tip for Women
A great white party outfit idea for ladies is to wear pieces that have asymmetrical necklines, or strategic cut outs. These small design elements will really provide details that make your outfit more appealing. You will also lessen the likelihood of someone wearing the same exact outfit as you. The more detail your outfit has the more you will stand out from the crowd.
Tip for Men
To stick with the white party dress code for guys you want to choose items that also have strategic small details that catch the eye. A great way to create contrast in your outfit is to choose a shirt that is mesh and either put it underneath a jacket or a vest that is of a different texture so they you give the eye more to take in. These simple but thoughtful choices will make your outfit different from the rest of the guys also donning the all white look. Also play around with different fabrics for a pocket square. this will increase the design detail in your outfit.
Wear mixed metal accessories
Accessories can really add more drama to your outfit. To break up the mono chromatic look of an all white outfit you want to make sure you wear accessories in different metals. These metals can be in the form of a belt buckle, bracelet, necklace, or earrings. There really aren't any limitations in the different ways you can mix metal accessories.
ACCESSORY Tips for Women
A great option is to wear gold, silver, rose gold, or bronze in different textiles and layer your pieces. You need to make sure the metals you choose compliment each other. You don't want to wear too many pieces that do not work well together. This will end up taking away from your outfit rather than complementing it. A good rule of thumb is to select one bold statement accessory and keep the other accessories very simple. If you choose to wear a shoe that has metal accents be sure to choose shoes that complement the metal of the accessories you have chosen. Since you're wearing all white your choice of shoe should either be white, nude, silver or gold.
Accessory Tips for Men
A white leather strap belt with a gold, silver or brass buckle is the perfect touch to bring your white outfit together. You can wear a complementing watch or bracelet in the same metal to add more detail to your look. It is ok for you to wear a belt that is not white to an all white party. So if you choose a belt that is not white then stick to tan, black, silver or a muted gold. If you're ready to make a fashion statement, then forget the belt and opt for wearing a pair of suspenders with metal accents. Whether you decide to wear a belt or suspenders be sure your shoes are in a color that coordinates.
Top it off with a hat
For both men and women, a hat is a very chic accessory that will certainly make you stand out from the crowd. Remember the whole goal is to wear an outfit that's not the typical bland all white ensemble. So you should be bold and wear a statement hat. There are several ways you can style your hat with your outfit. The type of hat you choose should depend on how casual, or formal the party is.
Tip for Women
For parties that are casual you can wear fedoras, or berets, in material like grosgrain, straw or linen. Other headpieces you can wear are headbands trimmed with pearl, gold or silver accents. You can also wear large satin fabric head wraps that can look quite chic. If the party is more formal than you can wear a wide brimmed boater style hat. Generally, more formal hats are made in materials like wool and suede. The formal hat is usually accented with pearl trims, velvet, and lace.
Tip for Men
Some casual hat options for men are fedoras, and newsboy hats. No matter how casual the white party is you should avoid wearing a baseball cap. A baseball cap will make your outfit look as if you did not put any effort into your outfit.
White Party Outfit Ideas for formal events
White party outfit ideas for women
If you are invited to a formal gathering such as a wedding or a formal seated dinner then you need to make sure you are wearing an appropriate all white outfit. You should go for wearing materials that are higher in quality such as satin, silk, chiffon, lace or crepe. You can also wear pieces that are accented with crystals and stones. You want to avoid fabrics that are too casual and light such as denim, nylon, and polyester. These fabrics are better suited for casual events like pool parties, day parties, or picnics.
It's also important to note the distinction between semi formal and formal. If the party is semi formal than it is ok for you to wear cocktail dresses and skirts that are above the knee. You can also wear a capri style pant, or tea length pant that stops above the ankle. However, if it is a very formal white tie wedding then you need to wear a full length dress that goes to the floor. You do not want your ankles exposed if the invitation says white tie formal. You can wear pants as long as they cover your ankle and are made in a high quality material. No capri style pants that stop above the ankle this look is much too casual for a very formal event.
White party outfit ideas for men
If the event is semi formal or formal you want to make sure you avoid wearing any white denim materials, linen, or grosgrain. These materials are too casual and better suited for daywear. You also want to completely avoid wearing shorts or a t-shirt. A jacket is optional but you want to at least have a vest or a tie on so you don't look casual.
If the party is formal then you must wear a jacket and tie. This could be a bow tie or a regular tie. You can also wear a nice pin on your lapel to accent your jacket.
What To wear To a White Party
These tips on what to wear to a white party will be sure to inspire you and give you plenty of white party outfit ideas.